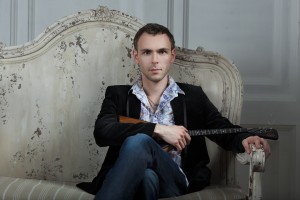 Born in Moscow in 1984.
In 1999 Nikita graduated from the Art School N15 named after Evgeny Svetlanov (studied under E.Kulakova), in 2003 graduated from the State Gnessin College of Music, in 2008 graduated with honors from the Russian Gnessin Academy of Music (studied under Merited Artist of Russia Professor  V. Zazhiguin and in 2011 graduated Master's Degree at the Academy under Professor V. Zazhiguin.
He has been awarded an honored grant established by President Putin.
Nikita is a laureate of the many festival and competition, Including "Tikhvinsky Lel" (Tikhvin, 2000, first prize), the Russian Competiton "Ringing Strings of Russia" (Vladimir, 2002, first prize), International Competition "North Cup" (Tcherepovets, 2006, first prize)
Nikita took part in such festivals as: International «Chereshnevy Les» Open-Art Festival in Moscow; «Slavonic spring» Klaipeda, Lithuania; «Primavera classica», «Revival», «Tradition», and many others in France, Germany, Lithuania, Russia.
He has performed with such orchestras as the National Philharmonic Orchestra of Russia under the baton of Vladimir Spivakov, the State Chamber Orchestra «Moscow Virtuosi» under the baton of Anton Orlov, Lithuanian State Symphony Orchestra under the baton of Gintaras Rinkevicius, Moscow Chamber Orchestra center Pavel Slobodkin under the baton of Vladimir Ryzhaev, Symphony Orchestra College-theater «Galina Vishnevskaya» under the baton of Ayrat Kashaev and many others
Nikita performed in some of the most prestigious concert halls of Moscow (Rakhmaninov Hall, Small Hall and  Grand Hall of the Moscow Conservatory, the International House of Music, the Great Hall of the Russian Academy of Music, the Concert Hall of Pavel Slobodkin Center, Glinka Museum, Kremlin Palace and others).
Has been awarded a scholarships of Vladimir Spivakov International Charity Foundation, «New Names» International Charity Foundation.